Upcoming Events
---
Past Events
Friday, January 27th, 2023 at 7pm: Juno Social! It is a new semester, and we have a new contract! Come join us in celebration at Juno Brewery, 1501 1st St NW. Please RSVP below and spread the word in your departments!
Tuesday, December 7th: UGW-UE 1466 Work-In. Join us in our response to UNM's shameful appeal. We will host a work-in to show UNM administrators that UNM works because WE do! RSVP for the event here.
November 30th 5-6pm: Emergency General Membership Meeting. Join fellow union members on zoom to discuss UNM's shameful appeal and plan our response.
November 18th: 5:30 General Membership Meeting. Join us for our first monthly General Membership Meeting to hear updates and discuss our campaign to win a strong first contract! The meeting will be entirely on zoom.
September 23rd: Information Session for International Students, Thursday September 23rd. We will hold an in-person info session at 12pm in the Centennial Engineering Courtyard (with bagels and coffee!) and repeat the event on zoom at 6:30 pm. Zoom link is here: https://unm.zoom.us/j/96928017683
September 3rd Rally
On September 3rd over 300 people rallied together and marched to President Stoke's office to deliver a petition calling for union negotiations to improve wages, benefits, and working conditions.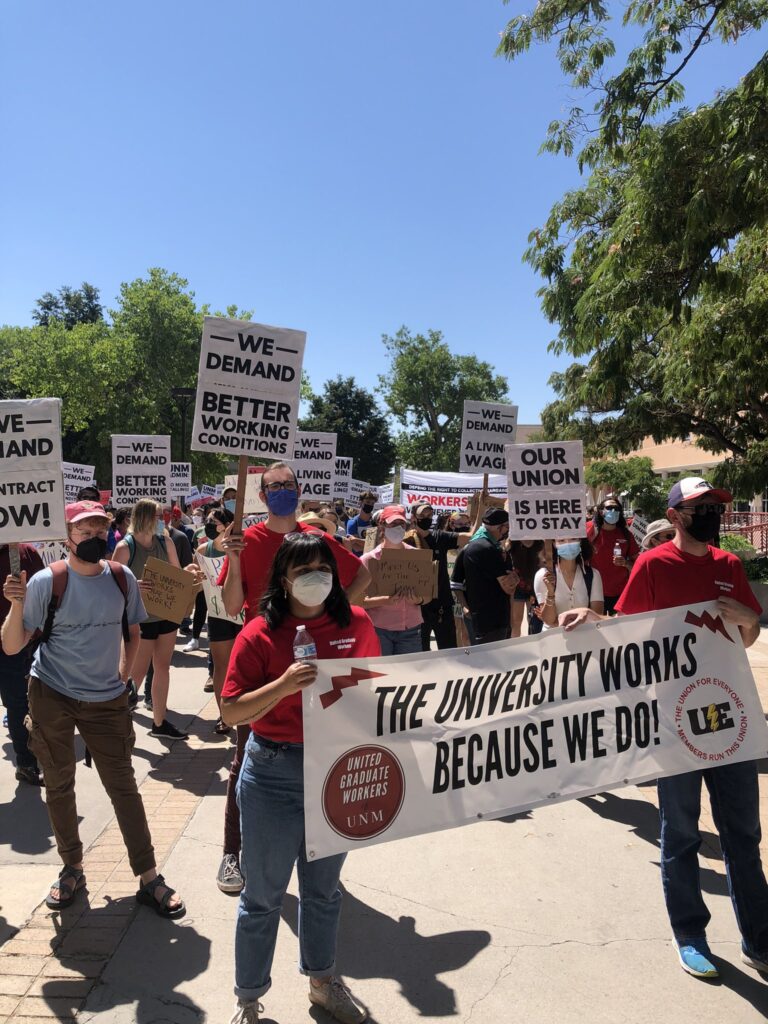 July 22nd Member Town Hall
April 19th Virtual Rally
The United Graduate Workers union hosts Rally for Recognition: A Week of Union Action. Currently, we are in the middle of a hearing with the New Mexico Public Employees Labor Relations Board because UNM is arguing that we are not employees and should not be covered by the Public Employee Bargaining Act. We are fighting a legal battle with UNM over this in order to resolve long-standing issues over compensation, benefits, and job security and to improve education and research conditions. Despite contributing significantly to research and teaching, graduate workers at the University of New Mexico have long struggled with precarious working conditions and base annual compensation that falls thousands of dollars below a living wage.
Show your support at a virtual rally on Monday, April 19th at 6pm! Call upon UNM to drop their ridiculous taxpayer-funded legal battle. Tell the UNM administration to stop fighting to keep graduate workers in poverty and unsafe working conditions.
Bargaining Survey Launch and Townhall
This is an informational meeting for all UNM Graduate Workers. We will be sharing updates about our union and answering questions about our upcoming bargaining survey. The same event will repeat twice, once at 1pm and once at 4pm, to allow as many people as possible to attend.

UNM WORKS BECAUSE WE DO: CAR CARAVAN AND PROTEST
UNM administrators have filed a motion seeking to strip graduate employees of our right to unionize under state law, reneging on their commitment to respect our rights.
We teach classes, prepare lectures, grade papers, and perform research at all hours of the day or night, including weekends. Our labor is the backbone of the University. UNM works because we do.
Join us for a car caravan and on-foot protest as we demand that the UNM administration recognize our right to bargain a union contract.
When: Wednesday, January 27th at 1PM (for both car caravan and protest)
Where: Car caravan meet in R Lot on Central and Girard
On-foot protest meet in front of President's House (1901 Roma Ave NE, Albuquerque, NM 87016)
---
Scientists Unite!
Friday, November 6th at 1:00 p.m. MT
United Graduate Workers of UNM is organizing hundreds of grad employees across campus to form a union. This virtual meeting is for workers in STEM fields to talk about how a union can benefit them. Questions will be answered by other stem grad workers who understand the unique challenges of scientific academic research, including grad workers from other schools that have already successfully unionized. Please join us to learn about what a union can do for you.